This is a collaboration between Louise and myself. It's my rendition of Waldo, the cat from Kim Deitch's
The Bouldevard of Broken Dreams
,
which Louise then colored.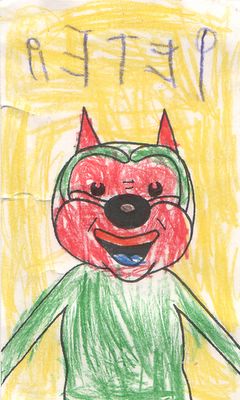 One might, perhaps, think it's cute. Having read the book I find it very creepy, but I like it nonetheless.
Also, note the "Peter" across the top. Louise is currently obsessed with
Peter and the Wolf
. She has taken to calling herself Peter and signing her art work as such. The fact that it is backwards is not a scanning screw up. On occasion she accidentally writes it in mirror image, I think because the name is so visually similar forwards and backwards. Curious business.